On December 23, 2006 we held a Christmas party at Sakura Gaoka Fureai Center for the students and families. Here are some pictures of the room and reception, after we had decorated the place.
This was a dinner party. Everyone brought one dish and Mark brought traditional American Christmas food for everyone to try: 2 smoked turkeys, 2 roasted chickens, stuffing, mashed potatoes, gravy and cranberry sauce. We also had 2 apple pies and 100s of Christmas cookies for everyone.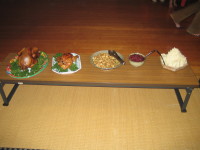 Half of the party helpers got sick and weren't able to come. So, I was a little busy trying to carve turkey and chicken and didn't get a chance to take a picture of the other food tables. Sorry. But the students and their families brought a lot of delicious food and deserts. Everyone ate and ate and ate. Below are some pictures of everyone at their tables sitting down to eat.
For some Christmas activities, we had a Christmas Bookmark Factory this year. Children could come and create their own bookmarks. There were winter/Christmas punch-outs they could use as well as markers to make their own designs. Afterwards, we ran them through a laminator, punched a hole in them and then attached some green, red, or white ribbons.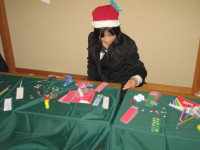 Sachie, a high school student, was a big help with this. Thanks, Sachie!
We also had Christmas Bingo! Using the materials Mark created and uses in class. The kids got to play bingo for prizes! The top prize was a chocolate house. The other prizes were bendable Christmas tree characters and Santa Claus shaped playing cards.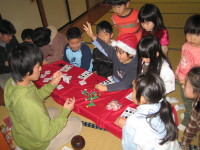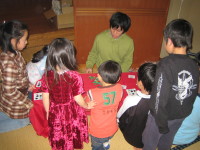 Noriyuki, a high school students helped run the bingo. Thanks, Noriyuki!
In the center of the room we had a couple tables laid out where kids could play various different Christmas card games with each other or their parents. There was Go Fish, Old Maid, War, and Santa Claus playing cards for any other game.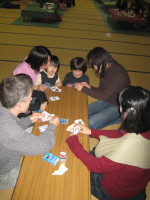 I put in my request early for Santa to come and he came!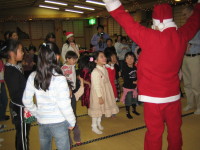 With presents!
Santa had 3-D jelly-pops for everybody! Afterwards, Santa sat down and families or friends could take their picture with Santa. This is an American tradition. The students also got to talk with Santa a little as well.
As a big thank you to Santa and to see him off, the students sang him 'Jingle Bells' with a little dance.
The last event was the present exchange. We separated the kids into groups of elementary school kids and kindergarten and younger. I played some music while they passed the presents around in a circle. Once the music stopped, the children opened the present they were holding.
To close the party, we all sang 'Silent Night.' It was very beautiful.
Thank you to all those who helped:
My wife Tomoko who made 2 turkeys, 2 chickens, stuffing, mashed potatoes and cranberry sauce for 70. She made stocking for all of the new students and did most of the work for getting the bookmark prep ready. She also made 100s of cookies and gingerbread-men but by the time I went over to take the picture... they were all gone. Thanks, Tomoko!
Kai for hanging out with me during decorating and helping with the center pieces. Thanks!
Sachie, Noriyuki, Dennis and Naoko for helping decorate, running the party, and clean up. Thanks!
Thanks to everyone who attended and made the party fun.
Thanks to those for staying around and helping clean up.
I hope you had a Merry Christmas and a very Happy New Year!
- Mark