Halloween worksheets Halloween cards Halloween printables Halloween coloring pages

On Sunday, October 30th, we held the 10th annual Mark's English School Halloween Party! This year we had a full indoor haunted house and a Pokemon costume theme with some Pokemon party games. There was a haunted house backdrop Halloween photo spot set up in the room as well for guests to take a Halloween photo.
This year was the biggest by far. There were 94 children and 54 adults that attended. Here are some pictures of the party guests in the haunted shack photo spot. It had an old wood backdrop, an old broken window and some pumpkins.
On Saturday night 7 volunteers came to help set up the haunted house. I made a haunted house facade and doorway, two spooky trees, a rot iron fence and 6 fence posts to make the gate for the entrance to the haunted house. At the start of the party, guests could go into the haunted house (if they dared.) Before they entered, I took a picture of them, just in case they never came out ...
(There are more pictures at the end of the article.)
When the children signed in for the party, they were given a Pokemon badge sheet. They had to collect all of the badges throughout the party to win a special prize. For each game they played and won, they would earn a badge. They could then add that badge to their sheet.
To start the party, we usually have a group game. This year we tried to add more Pokemon games to the party to match our costumes. So, the first game was Pokemon dodgeball. We had 4 large Pokemon beach balls and 8 small Monster Balls. In the center of the room, we made a Pokemon battle field and divide groups up into 2 teams. They had to stay inside the battle filed and if they were hit, they were out. The team with the most people left at the end, was the winner. They got a special prize and earned their first badge.
the next game was bobbing for apples. We have this every year and are very lucky to have an apple orchard right behind our house. Every year, Hosogaya Apple Farm donates apples for us to use and give to the children. Again, anyone who was successful and got an apple, could collect another Poke-ween badge.
The third main event to the MES Halloween party is the Halloween carnival. We have several games set up around the room and children can go around and play different games. Again, if they won the game, they got a small prize and earned another badge for their cards. We had: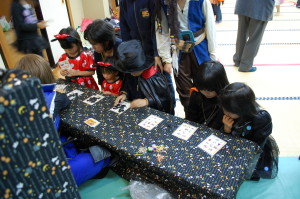 Pokemon Smash: we set up 3 Pokemon on a table. Children threw Poke-balls at the Pokemon and if they could knock one down and capture the Pokemon, they were the winner.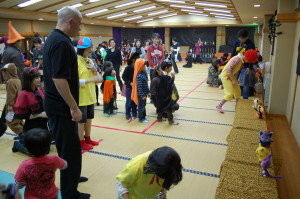 Find the eyeball: I made eyeballs that were different colors. We hid one eyeball under each cup. First we showed the kids which eyeball was under which cup and then shuffled the cups around. The children had to guess where the red eyeball (for example) was. If they guessed correctly, they won.
Touch and feel game: I prepared a box with some different items for children to touch and guess what was inside. I drew some pictures for the outside of the box to give the children a mental image of what they were going to be feeling for. We had zombie brains, a dead rat, a severed finger, and some eyballs for them to feel. The correct answers for what was in the box were: "zombie brains, a dead rat, a severed finger, and some eyballs". If they guessed correctly, they won a prize and their next badge!
We always have a little craft table set up and children could make their own paper jack o' lanterns. There were also some face paints they could use to add to their costumes or just draw cute hearts on their hands :)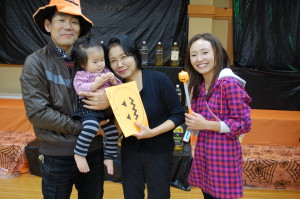 The fourth main event to the Halloween party is Treat Time! Tomoko makes over 1,000 cookies, cakes, eyeballs and treats for the party guests. Every year she tried to add some new items and this year we had Monster Ball cookies and a Pokemon Battlefield cake
While everyone is enjoyng a little break, we announce the costume contest winners. Below are the 2011 winners. From left to right: cutest, pair, original, 2nd place, 1st place, adult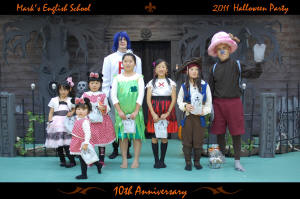 We try our best to get a group shot with everyone in it. It's a little difficult with so many people, but here are most of the people.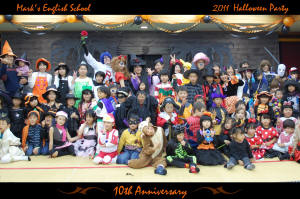 Below are a few more photos of people who attended, just before they went into the haunted house. Most were never seen or heard from again, but a few lived to tell the tale.
To end the party, we have a round of trick-or-treat. There are a few people with bags of candy and the children go around and collect some Halloween goodies. And that's the end of the party.
All in all, it was a very successful Halloween party. Many people helped out this year to both set up the haunted house, decorations and also to run the party and games. I'd like to thank Kita, Haruo, Mizu, Mikio, the Kubotas, Han, Moe, and Yusuke for coming the night before to help set up the haunted house. I'd also like to thanks the same people plus Hinako, Mayu, and Kurumisawa-san for coming early on Sunday to help set up. I'd also like to thank the same people plus Zach, Chiemi, Dennis and John for helping with the party and games. Without all of these people lending a hand, this wouldn't be possible, so I'M very greatful for the generosity and support.
Finally, a very special thank you to my partner in crime, Tomoko. Without her there would be no party. Thanks, Tomoko!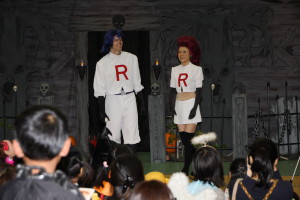 This year will be our 10th anniversary for Mark's English School. Some friends of Tomoko were very kind to have made us a special card and gave us a 10th anniversary present. They made a large card with pictures from each year and left a place for us to put this year's picture. It was very touching to have them go through the trouble to do that for us.
We hope everyone had a wonderful time at the Halloween party and we hope you can all make it again next year!
Happy Halloween!
- Mark and family
below are just a few pictures of us setting up the haunted house. Inside, we used 2x4 and 1x4 wood beams. We covered them with black plastic to make the walls for the haunted maze. Then added the sheets I made to the front, plus the doorway.
Inside the haunted house, we set up a few different spooky scenes. The first was a stone wall with skeletons. Then there was a large spider web. Then next room had black lights and some cool spider scene setter paper. the third section had an Egyptian theme. It would have been good to have a mummy jump out, but we have too many small children and I didn't want a panic. Lastly, they went out a side room that had a scary Halloween projection on the exit curtain. They had to walk through the horror :)