Halloween worksheets Halloween cards Halloween printables Halloween coloring pages
On Sunday, October 28th, we held the 11th annual Mark's English School Halloween Party! This year we had a haunted house and bloody walls, classic horror slasher theme for decorations. The hosts were dressed as a deranged sushi chef and sushi. There were a couple sushi and slasher related games for kids along with traditional Halloween games and events.
Setting a new record, we had 96 kids and 67 adults at this year's party. Here are some of the party guests in the psycho killer photo scene:
We usually start the party off with a group game. This year, we had Sushi Tag. To start we threw 20 pieces of sushi in the air. Kids had to grab one sushi to be in the game. Then, the sushi chef would hunt them down. If the chef caught up with them, they had to drop their sushi and sit out of bounds. kids who weren't in the game could join again if they could pick up the dropped sushi. When the time was up, any children holding a piece of sushi was the winner! They got a candy corn lollipop as a prize.
Every year we have the traditional Halloween game, Bobbing for Apples. Apples are placed in the water and people have to get the apples without using their hands. Here is a video of me demonstrating how it's done, as well as some pictures to follow.


After apple bobbing, we have the Halloween festival with different games and activities for the kids. The main attraction for this year was the MES Haunted House. We changed the haunted house quite a bit this year. Take a look at the pictures from inside and then some photos of the victims just before they entered.
Here are a few photos of those that dared to enter:
Every year, we have Halloween Bingo. If children got bingo, they had their choice of a candy-filled tombstone or cool Halloween pencil.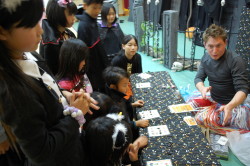 A new game for this year was the Eyeball Pumpkin Challenge. Kids threw 5 ping-pong-ball eyeballs at the board. If they got one of the eyeballs in a cup, they were a winner. Winners got either a bat clapper or Halloween stamp with glowing eyes.
Another new game for this year was the Candy Zombie Game. Kids had to turn over cards one by one. If they could find 5 pieces of candy, they won. If the candy zombie appeared, he took all the candy and the kids had to run for their lives :) Winners got either a ring-pop or a Halloween slap bracelet.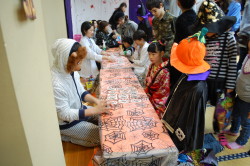 Every year we have a few games to match our costume theme and this year we had 2 sushi games. One was Sushi Old Maid and the other was a Salmon Roe Toss. To win at the Salmon Roe Toss, kids had to knock any one of three sushi pieces off the plate. If they did, they won. Winners got pop rocks or an eyeball superball. Sushi Old Maid winners got candy necklaces.
Every year we have a Halloween Craft Spot. This year, kids could make their own jack o' lanterns, color some Halloween pictures or make a Halloween bookmark.
Once the games are over, we have Treat Time. Tomoko makes over 1,000 cookies, eyeballs, and this year Halloween sushi! There are gruesome drinks, popcorn, candy corn and maybe a few other Halloween snacks for the party guests.
Towards the end of snack time, we announce the Costume Contest winners. You can see this year's winners below: unique, pair, adult, cutest, 2nd place and 1st place. We also take a group photo and below you can see most of the participants (some on the edges didn't make it, sorry.)
As the final event, we have the traditional Trick-Or-Treat. Some volunteers lined up along the front and helped to pass out candies and treats to all of the costumed trick-or-treaters.
I'd like to thanks all of the people that helped make this party a success. On Saturday night before the party, we had a team of volunteers come and help set up. I'd like to thank them all: Kita, Zach, David, Haruo, Emi, the Kubotas, Mr. Usui and Ryan.
On the day we had even more help and I'd like to thank Dennis, Yoshinori, Alex, Sharleen, Moe, Yusuke, and the Klines. Every year Hosogaya Apple Orchard donates apples for the Apple Bobbing and we'd love to send a special thanks their way as well. The kids really enjoyed the game and the apples. (So, did I :)
I'd also like to thank all of the party guests. It's great to see everyone in costume and I hope you all had a fabulous time. We sure did.
Last, but not least, a special thanks to Tomoko and my kids for all their help with costumes, props, cookies, treats, shopping trips, clean up and for another fantastic Halloween!
Happy Halloween!
- Mark